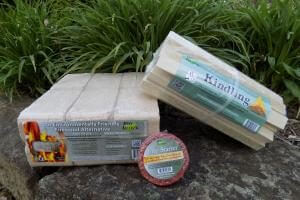 Gathering around a cozy fire with friends, family, good food and conversation is a great way to enjoy the cool, crisp Fall evenings and get more mileage out of your backyard before winter. The challenge is often finding dry, affordable firewood.
Our company has added another option to start a fire with BIO BLOCK Kindling. These kiln-dried, hardwood strips light easily. When you have a strong fire established, throw on BIO BLOCK Firewood. One thing you'll notice, is that BIO BLOCK Firewood will not spark like traditional wood, so you don't constantly have to move your chairs.
If you tailgate, or are planning a camping trip to a state park, all of BIO BLOCKS products come in a clean, neat package, and are bug and dirt free. All of our products are safe to transport across state and county lines.
Planning an event just got easier! At least you can check firewood supplies off of your list. Relax, unwind and pull up a few chairs to enjoy the cool, Fall evenings around a BIO BLOCK fire.