Still Have Questions?

Get in contact with us through our contact form
View BIO BLOCK
Interested in learning more about BIO BLOCKS? Visit our product page!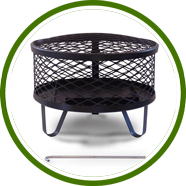 PORTABLE FIRE PIT
Can I use BIO BLOCKS instead of charcoal for cooking with my Dutch Oven?
BIO BLOCKS can be used for Dutch Oven Cooking. We recommend starting with 10 BIO BLOCKS so you have plenty of hot coals. Start your fire 1 1/2 hours before you plan to cook, allowing the BIO BLOCKS to burn down. A 12″ Dutch Oven fits perfectly in the BIO BLOCK Portable Fire Pit. Remove some of the coals, place your Dutch Oven in the fire pit, and place the coals that were removed on the lid of your oven as you would with charcoal. Keep in mind, however, that BIO BLOCKS burn very hot, so you will need to reduce the cooking time. Because of the even output of heat, we do not turn our Dutch Oven when cooking. Check your food often for best results.
How long does one BIO BLOCK burn?
We do not reccommend trying to burn one block because there is not enough surface area to establish a good fire. BIO BLOCKS should be arranged in a group, as you would a tradtional wood fire.
The BIO BLOCK Portable Fire Pit is designed to hold 8 BIO BLOCKS. This provides 1 ½ to 2 hours of flame and 2 hours more of heat from hot coals. If you are not cooking, but plan on sitting around a fire, add additional BIO BLOCKS as needed to maintain a flame. Burn time will vary, with an outside fire, depending on draft and climate conditions.
Are BIO BLOCKS safe to cook over?
BIO BLOCKS are safe to cook over because no glue or additives are added to BIO BLOCKS. We recommend starting your fire 1 – 1 1/2 hours before you plan to cook to allow the fire to burn down to hot coals.
BIO BLOCKS can be used as an alternative to charcoal. If cooking with a Dutch Oven, start your fire with 10 BIO BLOCKS, instead of 8, to allow for plenty of hot coals.
No questions matching current filter
Still Have Questions?

Get in contact with us through our contact form
View Portable BIO-BLOCK Firepit
Interested in learning more about the PORTABLE BIO-BLOCK FIREPIT, visit the product page!

WHY CONSIDER ALTERNATIVE ENERGY?
The moisture content of BIO BLOCKS is 8.5% according to a study at the University of Buffalo, compared to firewood that is considered seasoned at 20%.
Fuel oil and natural gas are susceptible to market conditions.
BIO BLOCKS are environmentally friendly and made from renewable resources.
Made in the U.S.A. Creates jobs and lessens our dependence on foreign oil.
BIO BLOCKS are easy to stack, taking less space than a cord of wood. Our pallet size is 40" x 48" x 36″.
Uniform size, density and moisture ensures predictable burning each time.
During power outages, BIO BLOCKS still provide heat.
Less smoke, ash and creosote = less time maintaining your stove and chimney.
Reclaim your weekends! No more time splitting and chopping firewood!
Efficient warmth. 1 ton of BIO BLOCKS is equivalent to 1½ cords of firewood.
100% Recycled product. No trees are harvested to create this product.
Clean! Bugs and dirt are not brought in the house.
KNOW THE FACTS
"Biomass fuels are derived from renewable sustainable sources such as wood pellets, corn and switch grass that are alternatives to fossil fuels. Some biomass fuels are even considered carbon neutral, or better, utilizing waste products from other industries such as cherry pits and sawdust."
– Excerpt from the Home, Patio, Barbeque Association Website