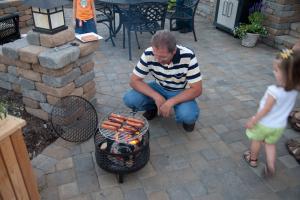 Remember Dad with our unique, handcrafted BIO BLOCK Portable Fire Pit. This would make an awesome gift for anyone who enjoys relaxing around a fire at the end of the day – whether it is on your patio at home or by your campfire. The cooking grate on our fire pit fits neatly inside the pit making it easy to store or transport.  The grate is also adjustable and can be rotated away from the fire to add your food. The fire pit is available in three colors: Black, Charcoal or Bronze.
BIO BLOCK's are eco-friendly and easy to start. They are great for camping because you are allowed to transport them since they are made of kiln dried wood waste.
Order the camping special: Buy a BIO BLOCK Portable Fire Pit and get one 12 pack of BIO BLOCK's and one fire starter FREE!