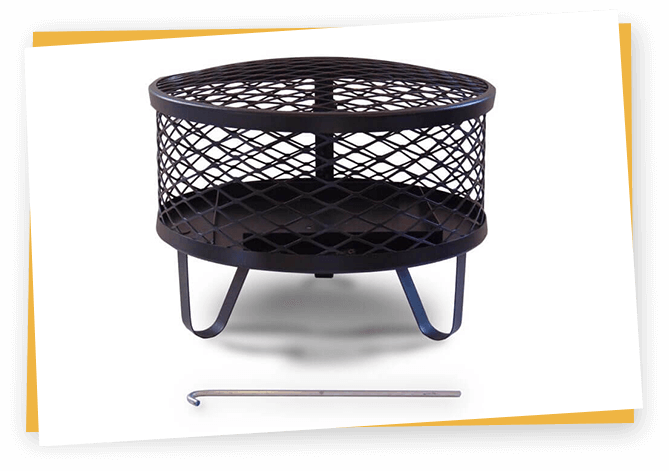 BIO BLOCK PORTABLE FIREPIT
The BIO BLOCK Portable Fire Pit can be enjoyed on your patio at home, or used for tailgating or camping. This fire pit is the perfect size to take in your RV.
| | | |
| --- | --- | --- |
| Handcrafted 16″ diameter fire pit | 13.5″ Poker included to lift lid and tend firewood | Made in the U.S.A. |
| High temperature powder coat black finish | 3 legs offers stability | Model 1600 |
| Heavy duty steel construction | No assembly required | 11 lbs. |
Optional swivel 14″ cooking grate available. Model 1600-CG

BIO BLOCK PORTABLE FIREPIT
INSTRUCTIONS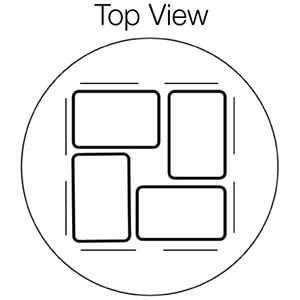 STEP 1
Arrange 4 BIO BLOCKS, in a square, inside the guides on the bottom of the fire pit.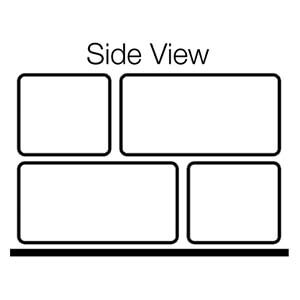 STEP 2
Place 4 BIO BLOCKS on top of the first layer, leaving a small space in between BIO BLOCKS for air circulation.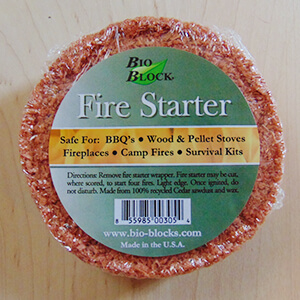 STEP 3
Divide a BIO BLOCK Fire Starter into 4 pieces.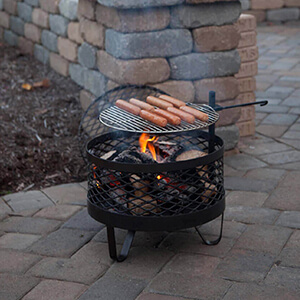 STEP 4
Place ¼ of the starter in the center of the BIO BLOCKS and light.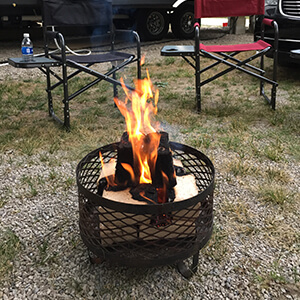 STEP 5
Additional BIO BLOCKS can be added as needed.

COOKING WITH BIO BLOCKS
Cooking or Grilling
If using BIO BLOCKS as an alternative to charcoal, light the fire approximately 1 ½ hours before cooking or grilling. This allows enough time for the blocks to turn from a flame to hot coals.
After cooking or grilling, add more BIO BLOCK Firelogs to enjoy a flaming fire again. If cooking with a Dutch Oven, start a fire with 10 BIO BLOCKS. This provides plenty of hot coals to place on top of your Dutch Oven.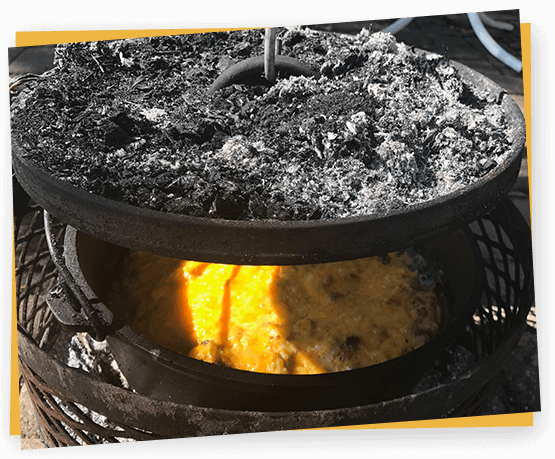 Safety Information
Warning: FOR OUTDOOR USE ONLY.
Never leave fire unattended.
The lid gets extremely hot! Use the poker to lift the lid when adding more BIO BLOCK Firelogs, or to tend the fire. Do not use bare hands.
Do not allow children or pets near the fire pit without supervision.
DO NOT use gasoline or kerosene to start a fire in your fire pit.
Only use a safe method of lighting a fire such as a BIO BLOCK Fire Starter.
Place fire pit no closer than 8 feet from walls during use.
DO NOT attempt to move the fire pit while it is in use.
DO NOT use this unit on a wood deck, or on combustible surfaces, such as dry grass, leaves, mulch, etc.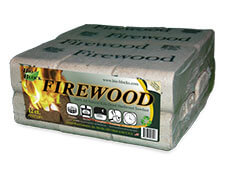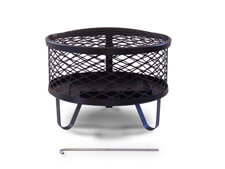 BIO BLOCK PORTABLE FIRE PIT