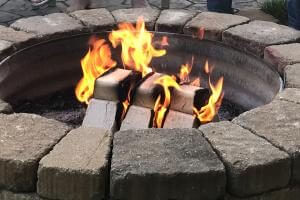 Have you ever planned to host a party on a beautiful, summer evening and had trouble getting your fire started? It can be extremely frustrating to try to start a fire with wet firewood! BIO BLOCK wood briquettes are the perfect solution for an easy campfire! They are dry and easy to start with a BIO BLOCK Fire Starter.
People often think of burning wood briquettes in the winter, but don't always think about burning them in the summer! The convenience of sawdust blocks is not limited to one season. This time of year, I enjoy burning BIO BLOCKS in a fire pit on my patio. We often enjoy a fire, then cook in a Dutch Oven, after our fire burns down to hot coals. When we are done cooking, we'll add a few more BIO BLOCKS again to increase the flame.
Firewood Restrictions in State Parks
If you are an avid camper, you're most likely aware of the restrictions many state parks and campgrounds have on bringing your own firewood. Unfortunately, many areas have lost trees due to the infestation of invasive insects such as the Emerald Ash Borer. Invasive insects are the reason for more firewood rules. I have spoken with RV owners who tell me they keep packs of BIO BLOCKS in their camper so they are always prepared. Campfires are a huge part of the camping experience. With BIO BLOCKS, you always have accessible, affordable firewood!
Benefits of Using Wood Briquettes in Campfires
If you have tree limbs, or other wood to burn, you can always lay that on top of an established BIO BLOCK Fire. You'll find many benefits of using wood briquettes in a campfire, fire pit, outdoor fireplace or chiminea. Fires are easier to start and the fire will burn hot and last longer. This gives you more time to sit back and visit with your friends. Another bonus of a campfire…it is a good way to keep insects away!