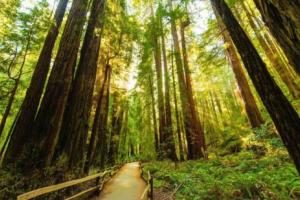 After a long winter, we are all ready to get outside and enjoy a little fresh air, pick a few spring flowers, hear the birds sing and move our fires to the great outdoors!
During the month of April, we celebrate Earth Day and Arbor Day – two events that are good reminders it is up to us to take care of creation.
Thousands of trees are cut every year for paper and unsustainable logging for timber. Even more are lost through forest fires and clear cutting for agriculture, ranching and development.
Arbor Day and Earth Day are good reminders that we need to preserve and plant trees. As we head into the camping season, we need to be conscious of the part that we all can play to maintain our beautiful trees, while still enjoying a campfire! This quote comes from the USDA website "When enjoying the great outdoors, don't move untreated firewood. Instead buy or responsibly gather firewood near the place you'll burn it – or bring certified, heat-treat firewood with you to use."
Because BIO BLOCK Firewood is kiln-dried, it falls under the heat-treated category. It can be transported across state and county lines without concern of spreading invasive insects which kill trees. The Emerald Ash Borer, Gypsy Moths and Asian Longhorned Beatle and other invasive insects have killed thousands of trees – often because we have not been aware of the dangers of moving firewood.
Save trees and your money by taking several 12 packs of BIO BLOCKS with you when you head out to a state park or campground. You can feel good about having a campfire this year with 100% recycled firewood!