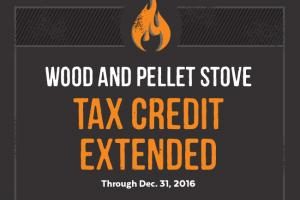 There is no better time than now to consider purchasing an efficient wood stove. According to the calendar, Spring has arrived! We are all ready to think of warm, sunny days. Before moving your winter coat to the back of the closet, and cleaning the ashes out of your wood stove, why not consider how your current stove is performing? If your family has never owned a wood stove, you'll be amazed at the warm, cozy feeling it brings to your home.
The federal government tax credit that has been extended on 75% efficient wood stoves purchased during 2015 or 2016. This makes investing in a wood stove even more appealing. Other points to remember:
The credit covers 10% of the purchase and installation cost, capped at $300.
Ask your local retailer about which stoves qualify.
Save all receipts from your purchase and installation
Save the manufacturer's certificate stating the stove is qualified for the tax credit.
Visit HPBA's website for more information www.hpbc.org/BiomassTaxCredit
Burning BIO BLOCKS, instead of firewood, offers convenience, warmth and savings all wrapped up in one. It solves the problem of finding time to cut firewood to burn in your wood stove. Now is the time to take advantage of this opportunity.  Purchase an efficient wood stove this year for your home!