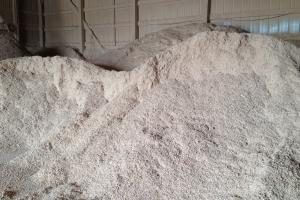 Consumers have a choice on what fuel to burn in their wood burning insert, wood stove or fireplace. Compressed sawdust blocks have become a popular choice for a number of reasons. It can be hard, however, to know which type of fuel to purchase.
First of all, it is important to know what material is used in the manufacturing process. If only kiln-dried hardwoods are used, the fire will only have the smell of wood. When chemicals, or a binder is added, there may be an offensive odor. BIO BLOCKS are made of 100% recycled, kiln-dried hardwood sawdust.  Pallets, MDF, or particle board are not added.
Secondly, we have discovered that carefully blending the types of hardwood produces a consistent burning block. In addition to sawdust, finely ground kiln-dried wood scraps are added. This process ensures a flame, providing ambiance in addition to heat.
Thirdly, a tightly compacted block will burn hotter. The BTU's from hardwood compressed blocks are 14 – 18 Mil. per ton compared to 8 – 12 Mil. per ton for firewood. A tightly compressed block is more important than the size of the briquette. A compacted block will retain its shape and continue to radiate heat well into the burning process.
Of course, price is always a consideration. If wood is the only source of heat during the winter, you may want to consider purchasing several pallets of wood fuel blocks. The number of packs on a pallet varies between manufacturers. A pallet of BIO BLOCKS contains 12 blocks per pack, 88 packs per pallet, and weighs one ton – 2,000 lbs. It is important to be aware that not all pallets contain the same amount of product!  One ton of BIO BLOCKS is equivalent to one and a half cords of firewood.
Finally, the size of your firebox is also a consideration when choosing winter fuel. BIO BLOCK Firelogs are easy to arrange in any size fireplace or wood stove.
A wood fire not only keeps the house warm but creates many happy family memories. Choosing the convenience of BIO BLOCKS is an easy way to make a warm house a reality.