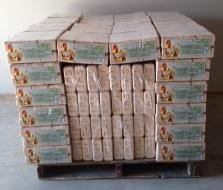 As the weather warms up outside, you don't need to push your BIO BLOCKS in a corner for six months! Customers who purchased a pallet of BIO BLOCKS (88 packs) can use them during the warmer weather too. It's so convenient to have plenty of blocks on hand when having an outdoor fire. If you live in an area where you're permitted to burn tree limbs that came down during the winter months, BIO BLOCKS can make your spring yard clean up easier by mixing them with the wet limbs to get a fire going outside.
I often hear from customers who dump gas or lighter fluid on an outdoor fire to start it. This may seem like a good idea if it has worked before but IT IS NOT SAFE!  www.stopgasfires.org states that 1500 children are injured or killed in a gasoline fire each year. Children are watching parents examples and will learn the best way to start a fire from them. Many of the stores that carry BIO BLOCKS also carry BIO BLOCK Fire Starters. The starters are economical since they can be cut into four pieces.  It only takes one starter to start four fires!
Spring clean up is easier and safer when you add BIO BLOCKS, and a 1/4 of the BIO BLOCK Fire Starter to tree limbs to start your outdoor fire. When the fire dies down, why don't you reward yourself and your family with hot dogs and smores!