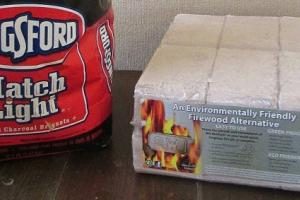 The 4th of July tops the list for the most barbeques followed by Memorial Day and then Labor Day. With over 86% of households owning an outdoor barbeque, grill or smoker, outdoor cooking is on the rise. Pizza ovens are also gaining in popularity. In addition to cooking our food, entertaining outside provides a time to relax with friends and family while enjoying nature in all of its beauty.
Burgers are the most popular meat to grill, with steak, hot dogs and chicken following close behind. Food that is cooked over a wood fire has an exceptional flavor.Three out of four consumers who cook on a charcoal grill use a barbecue sauce for basting. Dry rubs are also becoming popular.
While gas grills offer a quick, easy way to prepare your food, they definitely lack in creating a relaxing experience. I've never seen pictures of family and friends sitting around a gas grll singing and sharing conversation! Wood fires offer the best of both worlds – cooking your food and making a memory!
Charcoal is made of charred granules processed from sawdust with additives that may include coal, cornstarch, Borax, nitrate or lighter fluid.
As you get ready for your summer barbeque, consider what fuel is the best eco-friendy, economical choice for your family.
| Product | Weight | Cost | Contents | Ambience |
| --- | --- | --- | --- | --- |
| BIO BLOCK | 23 lbs. | $3.99 (.17 per lb.) | Kiln-dried sawdust & wood waste (No Additives) | Add another BIO BLOCK |
| Charcoal | 12.5 lbs. | $10.50 (84 per lb.) | Sawdust plus many additives | None |
and enjoy a flaming fire after cooking – A portion of this blog came from a HPBA report.