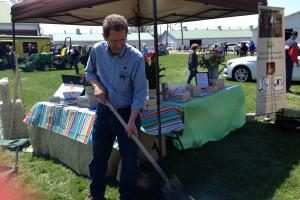 If you didn't have a chance to sample the Lazy Cobbler that we made at the Home and Garden Show last week, I thought I'd share the recipe.  We used BIO BLOCKS, instead of charcoal, for the fire. This recipe comes from the Camp Dutch Oven Cooking 101 Lodge Cookbook and is super easy!
       Lazy Cobbler Dutch Oven Recipe
2 cans sliced peaches, in syrup (29 – 30 oz. can)
1 package white or yellow cake mix
Ground cinnamon to taste    (I use ½ tsp. Cinnamon and ¼ tsp. Pumpkin Pie Spice.)
Place 12" Camp Dutch Oven over 15 hot charcoal briquettes. Pour contents of peach cans into oven. Spread dry cake mix evenly over peaches. Sprinkle cinnamon over all to taste. Cut butter or margarine into equal slices and arrange on top. Put lid on top of oven and place 10 hot charcoal briquettes in a checkerboard pattern on top. Bake for about 45 minutes or until done. Spoon into bowls and add cream, ice cream or whipped cream, if desired. Serves 8.
When cooking with BIO BLOCKS, start fire with 10 BIO BLOCKS 1 – 1½ hours before cooking, so you have plenty of hot coals. Place approximately half of the coals on the lid. Cook for about 30 minutes. Enjoy!