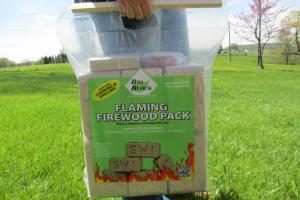 Our NEW watertight Flaming Firewood Pack contains 12 BIO BLOCKS, 1 fire starter, kindling and a pack of matches – everything you need to have an enjoyable evening by the campfire. The pack also has a convenient wood handle making it easy to carry to your campsite, backyard patio or to your friends house for a cookout! The fire starter is so big, you could actually break it into several pieces and use to start another fire! No more worries about wet firewood and problems with starting your fire!
BIO BLOCKS are safe for cooking and grilling. They can be used instead of charcoal or firewood, just start your fire 1 – 1 1/2 hours before you are ready to cook. I love to set my Lodge Dutch Oven in the hot coals to cook! I use 10 BIO BLOCKS if I plan on cooking in my Dutch Oven so I have plenty of coals. I also cut the cooking time down since BIO BLOCKS burn very hot. Food tastes delicious when cooked over a wood fire!
BIO BLOCKS are safe to transport across state and county lines without concern for spreading the emerald ash borer. These packs are clean and easy to stack and store in your RV or camper.
BIO BLOCKS can be used in fire pits, fireplaces, chimineas, fire rings and for campfires.
BIO BLOCKS are safe for the environment. No trees are harmed when manufacturing BIO BLOCKS.
The Flaming Firewood Packs are available through many of our dealers. Check our dealer locator page to find a location near you! We also have them available through our online store. Grab a pack, enjoy good food, and sit back and relax by the fire!