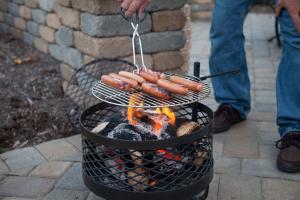 A longtime local company has found a way to convert what was once waste from its manufacturing operations into a new product, and appears poised to crack a new, green energy market.
Summit Wood Industries, 11615 E. Lincoln Way, which started 11 years ago manufacturing wood moldings and doing other millwork, is creating BioBlocks as an alternative to traditional heating sources.
According to Victoria G. Miller, who owns the business with her husband, Gary, Summit had long generated waste in the form of sawdust from the kiln-dried hardwood lumber it uses in its regular operations, and began to question whether there wasn't some way it could be transformed into a recycled product.
After exploring the market, the Millers found that heating with compressed sawdust blocks was very big in Europe, and subsequently ordered a machine from Germany that would take the sawdust generated from Summit's wood milling operations and form it into blocks under high pressure.
The resulting BioBlocks can be used both in fireplace and furnace applications for home heating as a replacement for traditional firewood, as well as in fire pits, chimneas and wood stoves.
Gary Miller, who says he loves to design and invent, created a system in Summit's shop in which sawdust vacuumed from the milling machinery is carried through metal pipes to a collection tank at one end of the shop, from which the block-forming machine draws a continuous supply of material.
Victoria Miller said the major advantage of BioBlocks over competitors' products is the Summit Wood Industries' blocks are make of almost pure sawdust with few larger pieces, enabling it to be more dense and solid, and taking on burning characteristics similar to coal. She said similar briquettes on the market are less compacted and use a much coarser grade of material, preventing them from burning as long or as effectively.
Victoria Miller said BioBlocks are a better heat source than traditional firewood for a variety of reasons.
First, she notes, BioBlocks are consistently low in moisture because the hardwood from which they are made is already kiln dried.
"Firewood is unpredictable in its moisture content," she said. "This means firewood wastes energy when burned because of its moisture content. Additional energy has to be used to convert water into steam. This steam is emitted through your chimney, creating a dangerous creosote buildup."
Victoria Miller also noted the BioBlocks can be burned in an existing wood stove, fireplace or fire pit without modification, and noted the energy contained in a BioBlock is nearly twice that of seasoned firewood.
She also noted BioBlocks are considered a natural product because no artificial binders are added during the manufacturing process. Moreover, she said, BioBlocks only release as much carbon dioxide back into the atmosphere as was originally absorbed by the growing tree during photosynthesis.
She said BioBlocks are compacted from a volume of sawdust that is originally six times the volume of the resulting block, giving them nearly twice the density of seasoned hardwood.
In addition, Victoria Miller notes BioBlocks are stackable, have no bugs, are clean to handle, require no chopping, light with newspaper and leave little ash. She said they are less expansive than fuel oil and cordwood. Each block weighs about 2 pounds and BioBlocks come in packages of eight, 12, or can be bought in bulk packs of 1,056 blocks, shrink-wrapped on pallets.
She said one ton of BioBlocks delivers more heat than one full cord of wood.
Gary Miller, who has created a portable fire pit that is specifically designed for BioBlocks as a fuel source, and which are manufactured by a local shop, said it won the Most Innovative Product Award at this year's Wayne County Home and Garden Show.
He said the portable fire pits, which incorporate a swivel-away grille, "are selling as fast as we can make them."
The Millers say their BioBlock business, which was started in late 2009, has been growing rapidly, and while still centered in the Wayne County area where there are several distributorships, is also making inroads into West Virginia, Iowa, Indiana and Pennsylvania.
Victoria Miller, who handles the marketing while her husband works with the manufacturing end, said the biggest challenge is "knowing how to market the product and educate the public about its benefits."
Among the challenges she sees for the product is being creative with the packaging of both the BioBlocks and complimentary products, moving toward creating a more regionalized market area, and streamlining the manufacturing process with increased automation.
"The biggest challenge is that we have a new product and no one knows what it is," said Victoria Miller, adding both their children are involved in various aspects of the business.
Gary Miller said he is working toward the complete reorganization of a 6,000-square-foot warehouse to handle the BioBlock portion of Summit's business.
While Victoria Miller said BioBlocks have found a ready market in the local Amish community, she believes there are many customers out there looking for an efficient and environmentally friendly fuel that can provide cost savings.