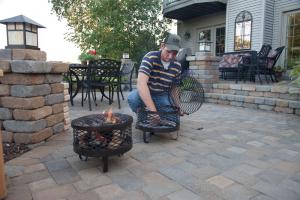 If you're not in the construction industry, you may not have heard of Summit Wood Industries of Orrville, but there's a good chance you'll find one of their products at a retailer near you. In 2009, the company began recycling the sawdust produced in its milling operations to create environmentally friendly Bio Blocks that are marketed through a network of dealers in Ohio, Pennsylvania and Indiana. The blocks are made from 100 percent hardwood waste, tightly compressed without glues or other additives to form a solid briquette. BioBlocks are safe for use in wood stoves, campfires, fireplaces and grills and burn efficiently and cleanly.
Gary Miller, owner of Summit Wood Industries, said the blocks are selling well. "You can use them as a firewood replacement anywhere you burn firewood," he said. "All our sawdust goes into that product. It's a unique product—green and carbon neutral." He noted that the blocks are ideal for camping because the ash borer is not an issue as with regular firewood. They are also easily portable, stackable and mess-free.
This year, Summit Wood Industries will begin marketing another new product – a portable fire pit made specially to burn Bio Blocks. Crafted of steel with a high-temperature powder coating, the pit is easy to carry and ideal for use on a patio, for camping or tailgating. A swiveling grill top makes grilling convenient as well. "I worked on that thing all year," said Miller. "We made prototypes and test-marketed it last year. We have a patent pending." The fire pits are locally made and will be distributed through the BioBlock dealer network. Each comes with a five-year warranty.
While the new products hold great potential, the main focus for Summit Wood Industries continues to be the production of hardwood moldings, including crown mold, door mold, base, casing and custom moldings for the furniture industry. They also produce other wood products such as S4S and S2S, used in cabinet making. Located along Route 30 near Riceland, the company has grown to 30,000-square-feet of manufacturing warehouse space since its inception in 2000.
"We're all wholesale here," said Miller, noting that his products are sold at independent lumberyards and used by many area furniture makers. Summit Wood Industries keeps a large inventory in stock, and can provide delivery on their own trucks. They also offer custom hardwood processing, and will plane, precision cut or gang rip lumber to order.
Miller said the hardwood industry in general has been in a slump for the past two years because of the downturn in the housing market. "The new housing market is what drives the industry," he said. "Wayne and Holmes counties are not immune to the housing industry problems. However, they haven't been hit as hard." He attributes the resiliency of area businesses to their focus on custom-made, handmade, quality products.
Miller is optimistic that markets will improve in 2011. "I would forecast a slight increase in sales volume likely this year," he said. "About the middle of 2010 we hit bottom, and it has slowly been increasing since then."